End Point Assessment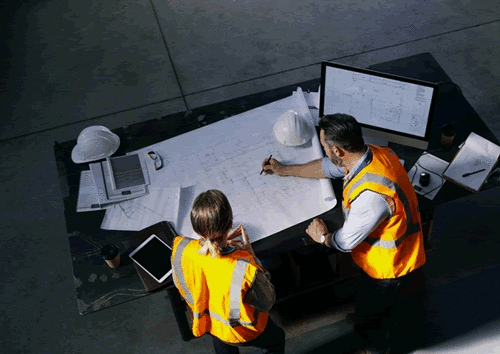 Design & Construction Mgmt
Reference Code:

ST0044

Level:

6

Version:

1

Duration:

48 months
Introduction
The broad purpose of the occupation is the leadership, management and coordination of the design and/or construction process on building and infrastructure projects, acting as the link between designers (i.e. architects, engineers) construction teams and project stakeholders.
Occupational role
Typical job titles include Architectural Technologist, Design Manager, Building Information Modelling (BIM) Manager and Construction Design Manager.
Funding
Maximum £18,000
Entry requirements
Individual employers will set their own selection criteria for this apprenticeship. As it requires achievement to Level 6 the typical entry requirements for this Apprenticeship will be a minimum of 2 A levels grades A to C (or equivalent), and a minimum of 5 GCSE grades A* to C including a minimum grade B in Maths and English (or equivalent); Level 4 Construction Design and Build Technician Standard; TCIAT (Architectural Technician) status; HNC/HND in Construction and the Built Environment or equivalent qualifications and commensurate experience.
Content
The apprenticeship includes core knowledge, skills and behaviours required to undertake the role of Design and Construction Manager.
End Point Assessment
Overview of assessment
The end point assessment covers all of the skills, knowledge and behaviours in the Standard. It will take place using independent assessors appointed by QFI and the methods shown below:
Online Test
Consisting of 20 multiple-choice-questions of which 14 are scenario-based problems. The test is taken in the presence of an invigilator, under controlled conditions, and tests the underpinning knowledge required to work as a Design and Construction Manager. Apprentices have a maximum of 40 minutes to complete the test. The online test must be passed successfully before apprentices can submit their work-based project.
Project
Apprentices will undertake a work-based project, compiled after Gateway, and submit it to QFI after a maximum of 4 months of the EPA start date. The project will be presented as a 3000-word (+/-10%) report and be verified by the employer. The assessor will assess and mark the project and advise the apprentice of their grade within 2-weeks of submission. The Project must be passed before taking the professional discussion.
Professional Discussion
Consisting of an interview with an assessor, the professional discussion will take 60 minutes. It can be conducted face to face or via an online platform and will involve questions that will focus on coverage of prior learning or activities. Before taking the professional discussion, apprentices will be required to provide a 2700-word summary of experience detailing how they have met the apprenticeship standard -based on their portfolio of evidence. The summary of experience will be used by the assessor to formulate the questions for the professional discussion.
Readiness for assessment
The employer will endorse progression to the end-point when satisfied that the apprentice is consistently working at or above the level set out in the standard, and the pre-requisite gateway requirements have been met with evidence to support these:
achieved minimum level 2 English and mathematics
completed all the approved qualifications mandated in the Design and Construction Management standard:

BSc (Hons) Construction Engineering Management or BSc (Hons)/BA(Hons) Architectural Technology, or equivalent design and construction discipline
Level 6 qualification Industry certificates in Site Safety Plus Site Managers' Safety Training Scheme and Site Environmental Awareness Training Scheme which are required for safe operations in the workplace

completed a portfolio of evidence
Grading
This apprenticeship is graded by the independent assessor appointed by QFI and grades are either: fail, pass or distinction.
Professional Recognition
Chartered Institute of Architectural Technologists (CIAT) and Chartered Institute of Building (CIOB)-A successful apprentice will be eligible for membership of the Chartered Institute of Architectural Technologists (CIAT) and Chartered Institute of Building (CIOB), or equivalent professional body. They can then work towards professional registration at Chartered level.
Why choose QFI
QFI is listed on the Register of Apprenticeship Assessment Organisations to assess this apprenticeship Standard. We have access to specialist, occupationally competent independent assessors. We will work with you to ensure that the end-point assessment runs as smoothly as possibly providing support for any staff involved in the process. Contact us now to discuss your requirements leadassessor@qfiepa.org