End Point Assessment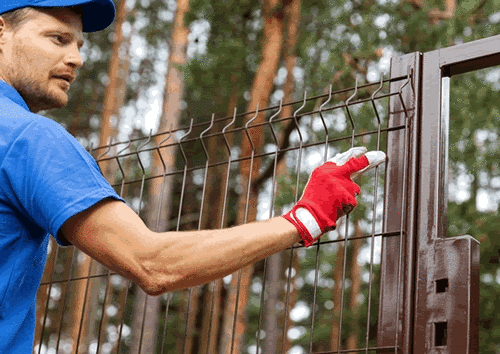 Fencing Installer
Reference Code:

ST0366

Level:

2

Version:

1

Duration:

18 months
Introduction
The fence installer is responsible for the installation of different types of fences, gates and barriers, across a broad cross-section of different environments from domestic and agricultural, through to commercial, industrial, high security and infrastructure (e.g. highways, rail and utilities). The areas within Fencing are: General fencing; Perimeter security systems; Vehicle restraint systems; Gates, doors and barriers.
Occupational role
With the diversity of the industry, there are a wide range of career opportunities. The fence installer works to detailed specifications and standards to ensure correct and safe installation. The fence installer must have the ability to read and understand specifications and plans, prepare sites and select relevant materials to carry out installation, maintenance or repairs to meet the relevant contract requirements. The work will include using a wide variety of materials, tools and machinery.
Funding
Maximum £7,000
Entry requirements
Employers will set their own entry requirements.
Content
The apprenticeship includes core skills, knowledge, and behaviours required by Fencing Installers.
End Point Assessment
Overview of assessment
The end point assessment covers all of the skills, knowledge and behaviours in the Standard. It will take place using independent assessors appointed by QFI and the methods shown below:
Workplace Observation
Consisting of the apprentice being observed installing a fence as part of a team. The specific job assessed will be consistent with the specific fencing specialist area the apprentice has been employed within. The assessor will ask a minimum of 7 follow-up questions to assess underpinning knowledge during the observation. The observation and questioning will take place over 5 hours and will assess the apprentice's ability to work within a team and that they also have the required skills to work independently on the given tasks.
Professional Discussion
Conducted on a one-to-one basis, the professional interview consists of 10 standardised competency-based questions and follow-up questions to probe further if required or to seek clarification. The interview is based on the apprentice's portfolio of evidence as well as the knowledge, skills and behaviour requirements as part of the fencing installer standard. Apprentices can use their portfolio to provide evidence to support the discussion. The discussion will be recorded via audio and will take 1 hour.
Readiness for assessment
The employer will endorse progression to the end-point when satisfied that the apprentice is consistently working at or above the level set out in the standard, and the pre-requisite gateway requirements have been met with evidence to support these:
achieved minimum level 1English and mathematics and taken the tests for level 2
completed a portfolio of evidence to support the professional discussion
Grading
This apprenticeship is graded by the independent assessor appointed by QFI and grades are either: fail, pass or distinction.
Professional Recognition
This standard will deliver sufficient competence, underpinning knowledge and understanding in the identified job role to allow the individual to meet the requirements of the Fencing Industry Skills Standard/Construction Skills Certification Scheme (FISS/CSCS) or other industry affiliated schemes.
Why choose QFI
QFI is listed on the Register of Apprenticeship Assessment Organisations to assess this apprenticeship Standard. We have access to specialist, occupationally competent independent assessors. We will work with you to ensure that the end-point assessment runs as smoothly as possible providing support for any staff involved in the process. Contact us now to discuss your requirements leadassessor@qfiepa.org