End Point Assessment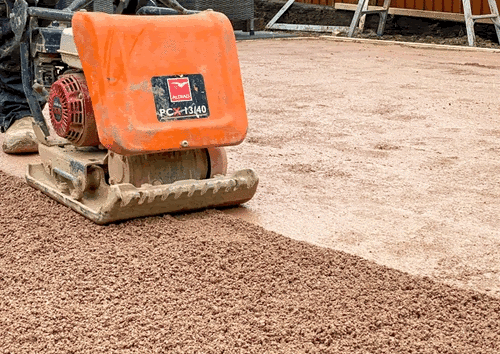 Groundworker
Reference Code:

ST0513

Level:

2

Version:

1.1

Duration:

18 months
Introduction
Groundworkers are the first trade onto a construction and civil engineering site and they work closely with supervisors and engineers in interpreting design specifications to prepare the site ready for the structural building works to take place. They continue their work throughout the construction phase, working with all on-site construction trades, such as bricklayers and plant operatives, up to and including the final completion activities of the project.
Occupational role
Groundworkers work includes setting out and preparing the sub-surfaces ready for the structural work to begin, installing drainage systems, concreting, constructing roads and pathways and carrying out the finished hard landscaping. They are able to transfer between heavy construction and civil engineering sites as well as house building, commercial building and general building sites. Groundworkers work for all types of construction companies from small subcontractors to large main contractors.
Funding
Maximum £9,000
Entry requirements
Employers set the selection criteria.
Content
The apprenticeship includes core knowledge, skills and behaviours required to undertake the work of a groundworker.
End Point Assessment
Overview of assessment
The end point assessment covers all of the skills, knowledge and behaviours in the Standard. It will take place using independent assessors appointed by QFI and the methods shown below:
Knowledge test
This will consist of 50 multiple choice knowledge-based questions on a computer-based platform in the presence of an invigilator. The test is designed to assess the apprentice against the standard's knowledge statements as detailed in the groundworker apprenticeship standard. The test will be a maximum of 90-minutes.
Skills test
Apprentices will be observed by an assessor completing three practical tasks in a real work environment. These tasks will be concreting, slabbing and drainage/installing ironworks. Following the tasks the assessor will ask a minimum of 6 open questions to assess underpinning knowledge, skills and behaviours. The skills test will usually take place over 3 days.
Professional discussion
This will take place on a one-to-one basis with an assessor who will ask a minimum of 15 questions to clarify and probe the apprentice's knowledge, skills and behaviours in relation to the groundworker standard. The professional discussion will be based around the apprentice's submitted portfolio of evidence and will take approximately 75 minutes. Apprentices are able to refer to their portfolio to support their responses during the discussion.
Readiness for assessment
The employer will endorse progression to the end-point when satisfied that the apprentice is consistently working at or above the level set out in the standard, and the pre-requisite gateway requirements have been met with evidence to support these:
achieved minimum level 1 English and mathematics
completed a portfolio of work to support the professional discussion.
Grading
This apprenticeship is graded by the independent assessor appointed by QFI and grades are either: fail, pass or distinction.
Professional Recognition
N/A
Why choose QFI
QFI is listed on the Register of Apprenticeship Assessment Organisations to assess this apprenticeship Standard. We have access to specialist, occupationally competent independent assessors. We will work with you to ensure that the end-point assessment runs as smoothly as possible providing support for any staff involved in the process. Contact us now to discuss your requirements leadassessor@qfiepa.org