End Point Assessment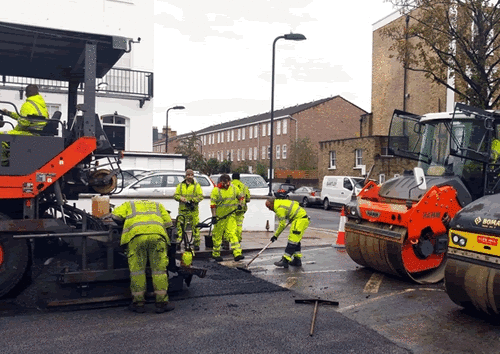 Highways Maintenance Skilled Operative
Reference Code:

ST0053

Level:

2

Version:

1

Duration:

18-24 months
Introduction
Highways Maintenance Skilled Operatives work for a variety of companies within the private and public sector. They will work on rural and urban roads (not including motorways) to repair damaged surfaces, using hand and power tools and pedestrian plant machinery.
Occupational role
A Highways Maintenance Skilled Operative will undertake reactive and planned rural and urban roads maintenance and repair. They work both individually and as part of a team.
Funding
Maximum £9,000
Entry requirements
Employers set the entry requirements.
Content
The apprenticeship includes skills, knowledge, and behaviours required by Highways Maintenance Skilled Operatives.
End Point Assessment
Overview of assessment
The end point assessment covers all of the skills, knowledge and behaviours in the Standard. It will take place using independent assessors appointed by QFI and the methods shown below:
Knowledge Test
This will comprise of 50 multiple-choice scenario/knowledge-based questions for completion within 1.5 hours. The knowledge test is closed book i.e. the apprentice cannot refer to reference books or materials and is taken in the presence of an invigilator. Apprentices must pass the knowledge test before being able to move on to the practical test.
Practical Skills Assessment
Component 1
Apprentices follow a specification and drawing to carry out a maintenance and repair practical task which takes approximately 7 hours.
Component 2
Follows the practical task. The assessor will formulate questions, from the practical test undertaken and the apprentice's submitted Record of Evidence and takes approximately 30 minutes.
Readiness for assessment
The employer will endorse progression to the end-point when satisfied that the apprentice is consistently working at or above the level set out in the standard, and the pre-requisite gateway requirements have been met with evidence to support these:
achieved minimum level 1 English and mathematics. For those with an education, health and care plan or a legacy statement-English and mathematics minimum requirement is Entry Level 3
Completed a record of evidence using the template provided by QFI.
Grading
This apprenticeship is graded by the independent assessor appointed by QFI and grades are either: fail, pass or distinction.
Professional Recognition
N/A
Why choose QFI
QFI is listed on the Register of Apprenticeship Assessment Organisations to assess this apprenticeship Standard. We have access to specialist, occupationally competent independent assessors. We will work with you to ensure that the end-point assessment runs as smoothly as possible providing support for any staff involved in the process. Contact us now to discuss your requirements leadassessor@qfiepa.org