End Point Assessment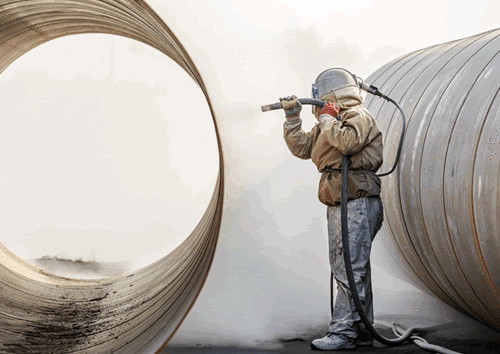 Industrial Coatings Applicator
Reference Code:

ST0463

Level:

2

Version:

1

Duration:

18 months
Introduction
There is a high demand for skilled industrial coatings applicators in the national infrastructure sector. The work usually takes place within a workshop or a designated area of a construction site for new steel structures, and on site for the maintenance or refurbishment of existing steel structures. Certificated industrial coatings applicators will be employed within teams in small, medium or large enterprises and their work may involve travelling throughout the UK.
Occupational role
Industrial coatings applicators play a key role in protecting the nation's infrastructure from deterioration for the benefit of existing and future generations. They are required to prepare the surface of new or existing steel structures to remove any contamination, mill scale, rust, or unsound existing coatings, and apply the appropriate corrosion protection coatings to specified standards. A competent industrial coatings applicator will be able to undertake the role safely and without supervision.
Funding
Maximum £9,000
Entry requirements
Employers set the selection criteria/ entry requirements for the apprenticeship.
Content
The apprenticeship includes the occupational knowledge, skills and behaviours required by Industrial Coatings Applicators.
End Point Assessment
Overview of assessment
The end point assessment covers all of the skills, knowledge and behaviours in the Standard. It will take place using independent assessors appointed by QFI and the methods shown below:
Practical Test
The apprentice will be provided with a task specification and will be required to apply protective coatings to steelwork to industry-recognised standards, as designed by QFI. A series of questions will be asked during the test to assess underlying knowledge of industrial coatings applicator principles. The test will last approximately 3 hours 30 minutes.
Professional Discussion
This will take the form of a one-to-one interview between the apprentice and an assessor. It will be used to assess apprentices on skills not covered by the practical test and to confirm their knowledge, skills and behaviours using their portfolio of evidence as a basis for the discussion. During the discussion, a minimum of 6 competency-based questions will be asked. The discussion will last approximately 60 minutes and is audio-recorded.
Readiness for assessment
The employer will endorse progression to the end-point when satisfied that the apprentice is consistently working at or above the level set out in the standard, and the pre-requisite gateway requirements have been met with evidence to support these:
achieved minimum level 1 English and mathematics and taken the tests for level 2
compiled a portfolio of evidence
Grading
This apprenticeship is graded by the independent assessor appointed by QFI and grades are either: fail, pass or distinction.
Professional Recognition
N/A
Why choose QFI
QFI is listed on the Register of Apprenticeship Assessment Organisations to assess this apprenticeship Standard. We have access to specialist, occupationally competent independent assessors. We will work with you to ensure that the end-point assessment runs as smoothly as possible providing support for any staff involved in the process. Contact us now to discuss your requirements leadassessor@qfiepa.org