End Point Assessment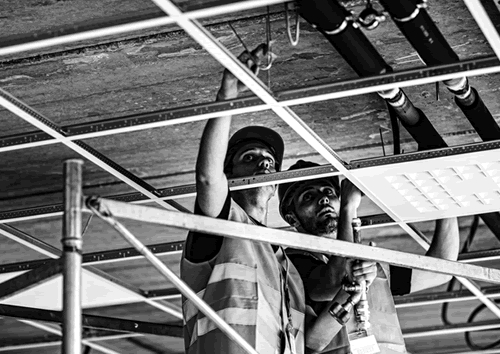 Interior Systems Installer
Reference Code:

ST0388

Level:

2

Version:

1

Duration:

24 months
Introduction
This occupation is found in the Construction and Built Environment industry including new-build, renovation and refurbishment. It is a specialist contracting occupation largely involved in the construction of partitions, walls and ceilings.
Occupational role
The broad purpose of the occupation is to install, repair and maintain various elements of the internal structure of a building to a high standard.(e.g. ceilings above and walls around the structure.). This is a core and options standard with two pathway routes:
Drylining -methods to install different drylining systems that form the walls and rooms within a building, often used to hide wires and pipes whilst improving acoustics and create space for insulation
Ceiling and Partitions-incorporates different ceiling and partition systems within a building. Used to provide different types of working environments, taking account of lighting and other fixtures.
Funding
Maximum £14,000
Entry requirements
Employers will set their own entry requirements.
Content
The apprenticeship includes core knowledge, skills and behaviours required to undertake the work of an Interior Systems Installer.
End Point Assessment
Overview of assessment
The end point assessment covers all of the skills, knowledge and behaviours in the Standard. It will take place using independent assessors appointed by QFI and the methods shown below:
Knowledge Test
This assessment method has two components: a core knowledge test & and an option knowledge test. Both components may be computer or paper-based, taken in the presence of an invigilator and will be closed book, which means that the apprentice cannot refer to reference books or materials during the tests.
Component 1: Core Knowledge
Test-consists of 45 multiple-choice questions to test core knowledge, including around health and safety. The test is 60 minutes in duration.
Component 2: Option Knowledge
Test-consists of 35 multiple-choice questions related to the option pathway the apprentice has chosen. The test is 45 minutes in duration.
Practical Observation & Questioning
Apprentices will be observed by an assessor completing 2 practical demonstrations in which they can demonstrate the Knowledge, skills and behaviours assigned to this assessment method:
Core practical observation and questioning: Install a stud work partition (time allocated 6 hours)
Options practical observation - (time allocated 6 hours) to be chosen from the following:

Option 1: drylining systems
Option 2: ceilings and partitions
These tests are discrete and will involve different settings. The assessor will ask up to 8 questions per practical demonstration.
Readiness for assessment
The employer will endorse progression to the end-point when satisfied that the apprentice is consistently working at or above the level set out in the standard, and the pre-requisite gateway requirements have been met with evidence to support these:
achieved minimum level 1 English and mathematics and taken the tests for level 2
Grading
This apprenticeship is graded by the independent assessor appointed by QFI and grades are either: fail, pass or merit.
Professional Recognition
N/A
Why choose QFI
QFI is listed on the Register of Apprenticeship Assessment Organisations to assess this apprenticeship Standard. We have access to specialist, occupationally competent independent assessors. We will work with you to ensure that the end-point assessment runs as smoothly as possible providing support for any staff involved in the process. Contact us now to discuss your requirements leadassessor@qfiepa.org