End Point Assessment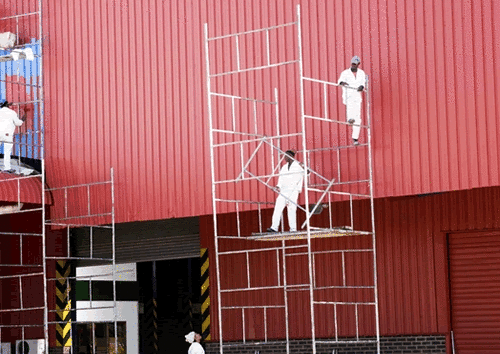 Painter and Decorator
Reference Code:

ST0295

Level:

1

Version:

1.1

Duration:

36 months
Introduction
Painters and Decorators operate in domestic and commercial properties and undertake the decoration and protection of buildings. Properties include houses, schools, offices, hospitals factories and construction sites.
Occupational role
Working internally or externally painters and decorators work individually and/or as part of a team applying water-borne and/or solvent-borne paint coatings and wallcoverings. They have good knowledge of paint coatings and wallcoverings and understand and comply with statutory, safety and environmental requirements. They are responsible for their own work achieving a high-quality finish at the appropriate pace. They are good problem solvers and communicators and are able to interact effectively with colleagues, clients and associated trades.
Funding
Maximum £9,000
Entry requirements
Employers will set their own entry requirements.
Content
The apprenticeship includes core knowledge, skills and behaviours required to undertake the work of a Painter and Decorator.
End Point Assessment
Overview of assessment
The end point assessment covers all of the skills, knowledge and behaviours in the Standard. It will take place using independent assessors appointed by QFI and the methods shown below:
Knowledge Test
Consisting of 50 multiple-choice knowledge-based questions of which 10 will be scenario based. The test is taken in the presence of an invigilator, under examination conditions and is closed book, which means that apprentices cannot refer to reference books or materials during the test. Knowledge tests can be either electronic or a paper-based and assess the apprentice against the knowledge and skills as detailed in the painter and decorator apprenticeship standard. The maximum time allowed for the knowledge test is 90 minutes.
Skills Test
The apprentice will be observed by an assessor, in a realistic work situation under normal conditions, completing a set task within an allocated time. The test will include tasks or scenarios which will require them to select from a range of suitable and unsuitable tools, fillers, paints and papers and will assess key knowledge and skills. The assessor will ask a minimum of six open questions to assess related underpinning knowledge. The observation will be carried out overa maximum total assessment time period of 3 days.
Professional Discussion
The professional discussion takes place between the apprentice and assessor but may be attended by a representative from the apprentices' employer. The assessor will ask a minimum of 15 questions that will refer to different areas of a work site as evidenced in the apprentice's portfolio of completed work developed during the apprenticeship. The professional discussion will take place over 60 minutes and apprentices can refer to their portfolio during the discussion.
Readiness for assessment
The employer will endorse progression to the end-point when satisfied that the apprentice is consistently working at or above the level set out in the standard, and the pre-requisite gateway requirements have been met with evidence to support these:
achieved minimum level 1 English and mathematics
completed a portfolio of work -to support the professional discussion
Grading
This apprenticeship is graded by the independent assessor appointed by QFI and grades are either: fail, pass or distinction.
Professional Recognition
N/A
Why choose QFI
QFI is listed on the Register of Apprenticeship Assessment Organisations to assess this apprenticeship Standard. We have access to specialist, occupationally competent independent assessors. We will work with you to ensure that the end-point assessment runs as smoothly as possible providing support for any staff involved in the process. Contact us now to discuss your requirements leadassessor@qfiepa.org