End Point Assessment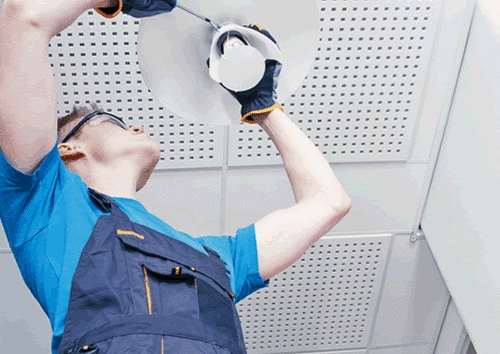 Property Maintenance Operative
Reference Code:

ST0171

Level:

2

Version:

1

Duration:

12 months
Introduction
The primary role of a Property Maintenance Operative is to optimise property condition and quality and to ensure the building is kept in a safe working condition. They will understand the mechanism of buildings including electrical, plumbing, plant, safety systems and equipment. They will provide first and immediate response to fault finding, whilst maximising quality and ensuring cost effectiveness. They will ensure prevention of major damage that could result in extensive costs and minimise reactive intervention.
Occupational role
Typical Job Roles: Maintenance Assistant, Property Engineer, Facilities Assistant, Maintenance Engineer, Maintenance Manager, Maintenance Technician, Caretaker, Janitor, Multi-Skilled Technician, Premises Manager.
Funding
Maximum £9,000
Entry requirements
Employers will set their own entry requirements.
Content
The apprenticeship includes core knowledge, skills and behaviours required to undertake the work of a Property Maintenance Operative.
End Point Assessment
Overview of assessment
The end point assessment covers all of the skills, knowledge and behaviours in the Standard. It will take place using independent assessors appointed by QFI and the methods shown below:
Knowledge Assessment
Consisting of 60 multiple-choice or structured questions (short-answer) to assess the bulk of the generic knowledge across the apprenticeship. The test is taken in the presence of an invigilator, under examination conditions and is closed book. The test can be computer based or paper-based and time allowed is 90minutes.
Practical Observation
This involves an assessor observing the apprentice completing a number of core practical activities under controlled conditions. The assessor may ask questions during the observation to the skills and supporting knowledge required of the role. The assessment will take approximately 5 hours.
Interview
This is conducted on a one-to-one basis with an assessor, either face to face or via video conferencing. The assessor will ask the apprentice questions on skills and behaviours that were not covered by the practical assessment, using their Portfolio of Evidence as a basis for the discussion. The interview will last a minimum of 30 minutes and a maximum of 45 minutes.
Readiness for assessment
The employer will endorse progression to the end-point when satisfied that the apprentice is consistently working at or above the level set out in the standard, and the pre-requisite gateway requirements have been met with evidence to support these:
achieved minimum level 1 English and mathematics and taken the tests for level 2
completed a portfolio of evidence and a short research project to underpin the interview
compiled a record of achievement to determine readiness for end-point assessment
Grading
This apprenticeship is graded by the independent assessor appointed by QFI and grades are either: fail, pass or distinction.
Professional Recognition
The apprentice will be recognised by the British Institute of Facilities Management (BIFM) providing Associate Membership for the apprentice whilst studying. BIFM have confirmed resources and learning materials will be available for the apprentice to support them throughout their learning journey.
Why choose QFI
QFI is listed on the Register of Apprenticeship Assessment Organisations to assess this apprenticeship Standard. We have access to specialist, occupationally competent independent assessors. We will work with you to ensure that the end-point assessment runs as smoothly as possible providing support for any staff involved in the process. Contact us now to discuss your requirements leadassessor@qfiepa.org