End Point Assessment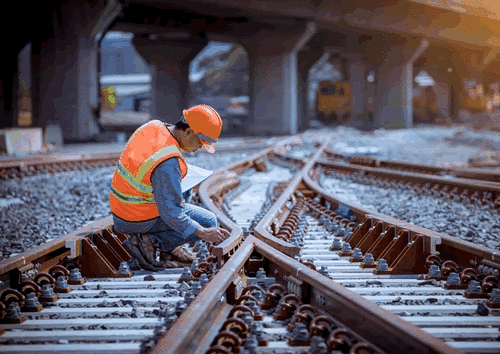 Railway Engineering Design Technician
Reference Code:

ST0315

Level:

3

Version:

1.1

Duration:

30 Months
Introduction
This occupation is found in small specialist firms to large multi-national and multi-disciplinary engineering or construction consultancies, to contractor and client organisations, where these organisations design, develop, install, maintain or manage rail infrastructure or rail systems. Railway engineering design technicians may also be found in specialist advisory organisations which consult on infrastructure financing or rail operation.
Occupational role
The broad purpose of the occupation is to prepare and produce railway engineering designs and provide technical support when planning the construction or maintenance of new or existing rail infrastructure, or their respective systems.
Funding
Maximum £18,00
Entry Requirements
Employers will set their own entry requirements. Individuals will typically have a minimum of 5 GCSE's at Grades A*-C / 9-5 including Maths, English and Science or their equivalent. Ideally, candidates will be strong in their mathematical ability, with many employers seeking GCSE Maths at Grade B/6 or equivalent.
Content
The apprenticeship includes core knowledge, skills and behaviours required to undertake the work of a Rail Engineering Design Technician.
End Point Assessment
Overview of assessment
The end point assessment covers all of the skills, knowledge and behaviours in the Standard. It will take place using independent assessors appointed by QFI and the methods shown below:
Technical project with report and presentation
This method has 2 components:
Component 1: Technical project with report Apprentices will undertake a technical project (2,500 words+/-10%) which reflects a real work-based railway engineering design challenge. QFI will issue a technical project brief at gateway and apprentices will have a maximum of 6 working weeks to complete.
Component 2: Presentation and questioning Apprentices will prepare and deliver a presentation based on a summary of their technical project report. Two assessors will ask a minimum of 5 questions at the end of the presentation to ensure KSBs assigned to assessment method are covered in sufficient depth. The presentation with questioning takes place over 30 minutes.
Professional discussion - underpinned by portfolio
Two independent assessors will conduct and assess the professional discussion, which may be face-to-face or via video conferencing. It will consist of a minimum of 5 questions, informed by the apprentice's portfolio, submitted at gateway and will take place over 40 minutes. A railway engineering design technician will be expected to be able to discuss their findings and results of work-based tasks or projects in a formal setting and be able to explain in detail their results.
Readiness for assessment
The employer will endorse progression to the end-point when satisfied that the apprentice is consistently working at or above the level set out in the standard, and the pre-requisite gateway requirements have been met with evidence to support these:
achieved minimum level 2 English and mathematics
completed one of the following mandatory qualifications:

Pearson Level 3 BTEC National Diploma in Engineering (500/8154/8) or
Pearson Edexcel Level 3 Diploma in Civil Engineering for Technicians (Institution of Civil Engineers) (501/1115/2) or
Pearson BTEC Level 3 Diploma in Civil Engineering (603/1217/8) or
Pearson BTEC Level 3 Diploma in Construction and the Built Environment (500/7137/3) or
Pearson BTEC Level 3 Diploma in Advanced Manufacturing Engineering (Development Technical Knowledge) (601/9054/1) or
Pearson BTEC Level 3 Diploma in Rail Engineering Technician Knowledge (603/2537/9)

indicated their preferred railway engineering design project focus to allow QFI to provide the most appropriate technical project brief to be issued at gateway
submitted a portfolio of evidence-to underpin professional discussion
Grading
This apprenticeship is graded by the independent assessor appointed by QFI and grades are either: fail, pass or distinction.
Professional Recognition
This standard aligns with the following professional recognition:
Institution of Civil Engineers (ICE) for EngTech
The Institution of Engineering and Technology (IET for EngTech
Permanent Way Institution (PWI) for EngTech
Why choose QFI
QFI is listed on the Register of Apprenticeship Assessment Organisations to assess this apprenticeship Standard. We have access to specialist, occupationally competent independent assessors. We will work with you to ensure that the end-point assessment runs as smoothly as possible providing support for any staff involved in the process. Contact us now to discuss your requirements leadassessor@qfiepa.org