End Point Assessment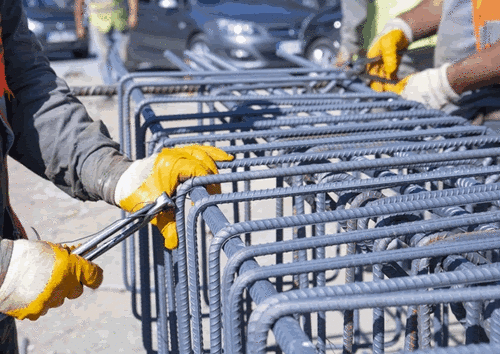 Steel Fixer
Reference Code:

ST0271

Level:

2

Version:

1.1

Duration:

18 months
Introduction
The boad purpose of the occupation is to construct the steel reinforcement which forms a vital part of any concrete structure. A steel fixer constructs reinforcement fo columns, beams, walls and floors no matter how big or small the construction project is.
Occupational role
In their daily work, an employee in this occupation interacts with other trades such as formwork carpenters, groundworkers, scaffolders as well as supervisors, site management, architects, designers, contractors and customers. The working environment is often outdoors on a construction site and can be physically demanding.
Steel Fixers often work at height, such as on high rise buildings, therefore health and safety is of paramount importance.
Funding
Maximum £15,000
Entry requirements
Employers will set their own entry requirements.
Content
The apprenticeship includes the skills, technical knowledge, and behaviours required to undertake the work of a Steel Fixer.
End Point Assessment
Overview of assessment
The end point assessment covers all of the skiils, knowledge and behaviours in the Standard. It will take place using independent assessors appointed by QFI and the methods shown below:
Knowledge test
Knowledge Test comprising 35 multiple-choice and scenario based questions. Duration maximum 60 minutes.
Practical test
This will consist of a practical assessment with questions, completed in in a realistic work situation and will take a maximum of 6 hours, 15 minutes. A set of drawings and specifications will be provided to the apprentices at the start of the practical test. Using the drawings, the apprentice will be required to build one of two structures: 'Pile cap' and Insitu wall'.
Interview
A Structured Interview to include a minimum of 10 questions arising from the portfolio review.
Readiness for assessment
The employer will endorse progression to the end point when satisfied that the apprentice is consistently working at or above the level set out in the standard, and the pre-requisite gateway requirements have been met with evidence to support these:
achieved minimum level 1 English and mathematics
completed portfolio of evidence (to underpin the Interview)
Grading
This apprenticeship is graded by the independent assessor appointed by QFI and grades are either: Fail, Pass or Distinction.
Professional Recognition
NA
Why choose QFI
QFI is listed on the Register of Apprenticeship Assessment Organisations to assess this apprenticeship Standard. We have access to specialist, occupationally competent independent assessors. We will work with you to ensure that the end-point assessment runs as smoothly as possible providing support for any staff involved in the process. Contact us now to discuss your requirements leadassessor@qfiepa.org