End Point Assessment
_EPA_details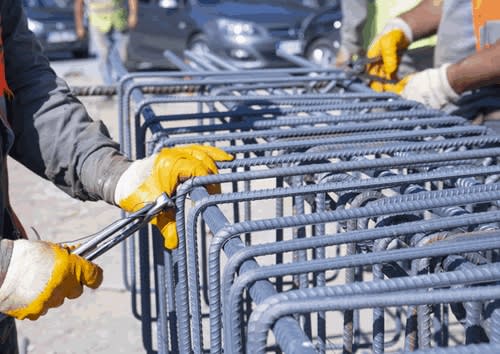 Steel Fixer
ST0271
18 months
Assessed Version: v1
Introduction
The primary role of a steel fixer is to assemble and erect the steel components required to strengthen reinforced concrete structures such as bridges, culverts, docks, industrial plants, power stations, railway stations, reservoirs, sub-ways, water treatment, and sewerage plants.
Occupational role
The steel fixer will typically be working as part of larger team on a construction project in which they will have responsibility for positioning, assembling and fixing of different shapes and sizes of steel rebar the correct specification and tolerances. The steel fixer will be able to interpret contract information, drawings and specifications in order to assemble and install the components correctly.
Funding
Maximum £12,000
Level 2
Entry requirements
Employers set the selection criteria.
Content
The apprenticeship standard includes the skills, knowledge, and behaviours required by Steel Fixers.
End Point Assessment
Overview of assessment
The end point assessment covers all of the skills, knowledge and behaviours in the Standard. It will take place using independent assessors appointed by QFI and the methods shown below:
Knowledge test
This will be a one-hour test that will consist of at least 50 multiple choice questions. It may be delivered either as an on-line or paper-based test and will be under exam conditions. This test will be used to determine that the apprentice has the underpinning knowledge such as legislation, safe techniques, principles and practices of Steel fixing, Health & Safety and Site Safety to be able to move onto the practical exercise.
Practical test
This consists of a timed test where the apprentice will be required to complete a steel fixing task by following a set of drawings and schedule and build to specification in the given time. The test will last for a maximum of 3.5 hours, after which the assessor will check that it conforms to the drawings, correct materials have been used and fixed as specified and all are within the given tolerances. Throughout the practical task the assessor may ask questions to check underlying knowledge and skills.
Readiness for assessment
The employer will endorse progression to the end-point when satisfied that the apprentice is consistently working at or above the level set out in the standard, and the pre-requisite gateway requirements have been met with evidence to support these:
achieved minimum level 1 English and mathematics and taken the test for level 2
achieved Level 2 Diploma in Steel fixing Occupations (Construction)
achieved Level 2 NVQ Diploma in Steel fixing Occupations
Grading
This apprenticeship is graded by the independent assessor appointed by QFI and grades are either :fail or pass.
Professional Recognition
This standard will deliver sufficient competence, underpinning knowledge and understanding in the identified job role to allow the individual to meet the requirements of the Construction Skills Certification Scheme (CSCS) or other industry affiliated schemes.
Why choose QFI
QFI is listed on the Register of Apprenticeship Assessment Organisations to assess this apprenticeship Standard. We have access to specialist, occupationally competent independent assessors. We will work with you to ensure that the end-point assessment runs as smoothly as possible providing support for any staff involved in the process. Contact us now to discuss your requirements leadassessor@qfiepa.org