End Point Assessment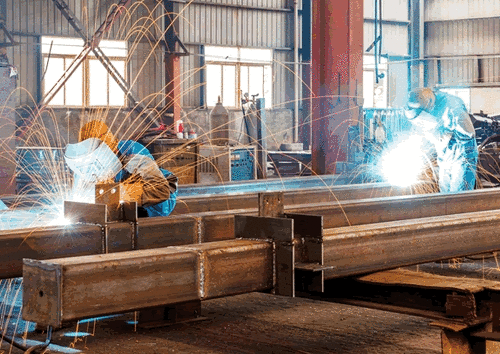 Structural Steelwork Fabricator
Reference Code:

ST0099

Level:

2

Version:

1

Duration:

24 months
Introduction
Structural steelwork fabricators are required to produce fabricated structural components to the highest standards in order to ensure that the finished products function correctly as they will usually be on display as part of the iconic structures such as National and local sport stadia, high rise tower blocks or bridges, and other structures include schools, colleges, hospitals and warehouses.
Occupational role
A competent structural steelwork fabricator will be able to identify the relevant steelwork sections and plate that is required to complete a fabricated component and the relevant tools and equipment that is required to complete a bolted connection, or a tack welded joint for a complex or shaped fabricated component. With demanding environments and a wide range of tools and equipment used, structural steelwork fabricator is a safety critical occupation.
Funding
Maximum £5,000
Entry requirements
Employers will set their own entry requirements.
Content
The apprenticeship includes core knowledge, skills and behaviours required to undertake the work of a Structural Steelwork Fabricator.
End Point Assessment
Overview of assessment
The end point assessment covers all of the skills, knowledge and behaviours in the Standard. It will take place using independent assessors appointed by QFI and the methods shown below:
Practical Test
Consisting of a set structural steel fabrication task to be completed in an allocated time and observed by an assessor. The apprentice will be provided with a task specification at the beginning of the test. Following the practical test, the assessor will ask the apprentice a series of questions to assess underlying knowledge of fabrication principles. Upon completion of the task the assessor will mark the completed fabrication work, checking that it conforms to the drawings, the correct materials have been used and fixed as instructed and all are within the given tolerances. The total time forthe practical test is 3 hours and 30 minutes.
Professional Interview
The professional discussion is conducted on a one-to-one basis in a controlled environment and can take place remotely. The portfolio of evidence, provided in advance of the professional discussion, can be used by the apprentice to provide evidence to support the discussion but will not in itself be directly assessed. During the professional discussion, the apprentice will be asked a series of 8 competency-based questions, with follow-up questions to probe further if required. The duration of the professional discussion is 60 minutes.
Readiness for assessment
The employer will endorse progression to the end-point when satisfied that the apprentice is consistently working at or above the level set out in the standard, and the pre-requisite gateway requirements have been met with evidence to support these:
achieved minimum level 1 English and mathematics and taken the tests for level 2
completed a portfolio of evidence –to support the professional discussion
Grading
This apprenticeship is graded by the independent assessor appointed by QFI and grades are either: fail, pass or distinction.
Professional Recognition
N/A
Why choose QFI
QFI is listed on the Register of Apprenticeship Assessment Organisations to assess this apprenticeship Standard. We have access to specialist, occupationally competent independent assessors. We will work with you to ensure that the end-point assessment runs as smoothly as possible providing support for any staff involved in the process. Contact us now to discuss your requirements leadassessor@qfiepa.org