End Point Assessment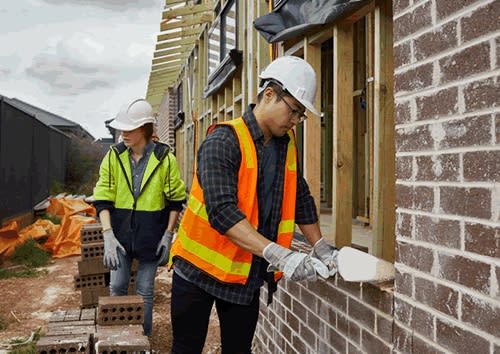 Bricklayer V1
Reference Code:

ST0095

Level:

2

Version:

1

Duration:

24-30 months
Introduction
The construction sector is the driving force behind the UK economy, employing three million people and contributing 6.4% of GDP. Not only that, the construction industry is central to delivering the homes, schools, hospitals, energy and transport infrastructure our society demands. Bricklaying is a core function within the construction sector, particularly the house building sector.
Occupational role
Bricklayers lay bricks, blocks and other types of building components in mortar to construct and repair walls, foundations, partitions, arches and other structures e.g. chimney stacks. They might also refurbish brickwork and masonry on restoration projects. The range of sites and projects that bricklayers will work on include large commercial developments, new builds in housing, alterations, extensions and restorations.
Funding Maximum
£9,000
Entry requirements
Employers set the selection criteria.
Content
The apprenticeship includes core knowledge, skills and behaviours required to undertake the work of a Bricklayer.
End Point Assessment
Overview of assessment
The end point assessment covers all of the skills, knowledge and behaviours in the Standard. It will take place using independent assessors appointed by QFI and the methods shown below:
Knowledge Test
Made up of 40 multiple-choice questions: 30 'Knowledge' based questions and 10 scenariobased questions to assess the apprentice's understanding. A minimum of 6 questions will be in relation to Health and Safety knowledge. The test will be computer based and apprentices will have 60 minutes to complete the test. Taken in the presence of an invigilator the test will be closed book.
Skills test
The apprentice will be observed by an assessor completing a practical task in a real work environment. The test will take approximately 12 hours over 2 working days. During the test the assessor will ask a minimum of 5 questions to assess or clarify underpinning knowledge. In advance of the skills test, the apprentice will be provided with information on the format of the skills test, including the timescales.
Oral Questioning
Comprising of a minimum of 12 questions that clarify and probe the apprentice's knowledge, skills and behaviours based on the portfolio of evidence they have submitted. The apprentice must use their portfolio to support their answers.
Readiness for assessment
The employer will endorse progression to the end-point when satisfied that the apprentice is consistently working at or above the level set out in the standard, and the pre-requisite gateway requirements have been met with evidence to support these:
achieved minimum level 1 English and mathematics and have taken the tests for level 2
submitted a portfolio of work to QFI to support the oral questioning element of end-point
Grading
This apprenticeship is graded by the independent assessor appointed by QFI and grades are either: fail, pass or distinction.
Professional Recognition
On completion of this Apprenticeship, the apprentice will have satisfied the requirements to obtain a Construction Skills Certification Scheme (CSCS) Card.
Why choose QFI
QFI is listed on the Register of Apprenticeship Assessment Organisations to assess this apprenticeship Standard. We have access to specialist, occupationally competent independent assessors. We will work with you to ensure that the end-point assessment runs as smoothly as possible providing support for any staff involved in the process. Contact us now to discuss your requirements leadassessor@qfiepa.org