End Point Assessment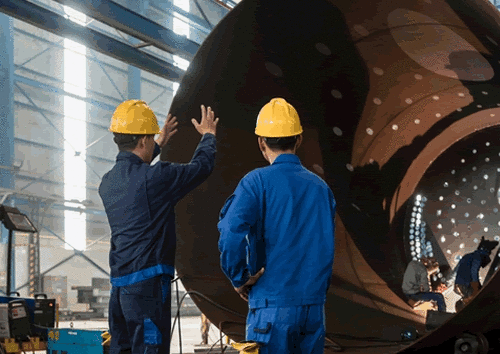 Metal Fabricator
Reference Code:

ST0607

Level:

3

Version:

1

Duration:

42 Months
Introduction
This occupation is found in the advanced manufacturing engineering and engineering construction sectors. The broad purpose of the occupation is to carry out metal fabrication work using things such as rolled steel joists, columns, channels, steel plate and metal sheet etc.
Occupational role
Work includes manufacturing bridges, oil rigs, ships, petro-chemical installations, cranes, platforms, aircraft, automotive and machinery parts, sheet metal enclosures, equipment supports, and anything that can be fabricated out of metal. Fabricators can work alone or in teams, in factories or on operational sites.
Funding
Maximum £27,000
Entry requirements
Individual employers will set the recruitment and selection criteria for their apprenticeships. In order to optimise success, candidates will typically have 4 GCSEs at Grade C/4 or equivalent, including Mathematics, English and a Science.
Content
The apprenticeship includes core knowledge, skills and behaviours required to undertake the work of a Metal Fabricator.
End Point Assessment
Overview of assessment
The end point assessment covers all of the skills, knowledge and behaviours in the Standard. It will take place using independent assessors appointed by QFI and the methods shown below:
Practical Observation
Apprentices will be observed by an assessor, in a realistic work situation under normal working conditions, completing two practical tasks that captures the combination of skills, i.e; shaping to specifications (drawing); manual and machine profiling/shaping techniques; mechanical and thermal jointing techniques; hot/cold manipulation of metal. At the end of the observation the assessor will ask a minimum of 10 open questions to assess related underpinning knowledge and assess the skills that did not naturally occur during the observation. The Practical Observation will take 6 hours. Apprentices will be provided with both written and verbal instructions on the tasks they will be asked to complete.
Professional Discussion
The purpose of the professional discussion is to enable the apprentice to showcase to an assessor how they have carried out the role of a Metal Fabricator, integrating the knowledge, skills and behaviours expected and for a review panel to be assured the apprentice has achieved the requirements of the metal fabricator standard. Apprentices will be asked a minimum of 10 open questions during the discussion. The professional discussion will take 40-minutes and is informed by the apprentice's portfolio of evidence, which they can refer to during the professional discussion if required.
Readiness for assessment
The employer will endorse progression to the end-point when satisfied that the apprentice is consistently working at or above the level set out in the standard, and the pre-requisite gateway requirements have been met with evidence to support these:
achieved minimum level 2 English and mathematics
achieved the mandatory qualification –level 3 Diploma in Advanced Manufacturing Engineering (Development Knowledge)
compiled a portfolio of evidence –to support the professional discussion
Grading
This apprenticeship is graded by the independent assessor appointed by QFI and grades are either: fail, pass or distinction.
Professional Recognition
This standard aligns with the following professional recognition:
IMechE for Eng Tech
IET for Eng Tech
Royal Aeronautical Society for Eng Tech
Why choose QFI
QFI is listed on the Register of Apprenticeship Assessment Organisations to assess this apprenticeship Standard. We have access to specialist, occupationally competent independent assessors. We will work with you to ensure that the end-point assessment runs as smoothly as possible providing support for any staff involved in the process. Contact us now to discuss your requirements leadassessor@qfiepa.org