End Point Assessment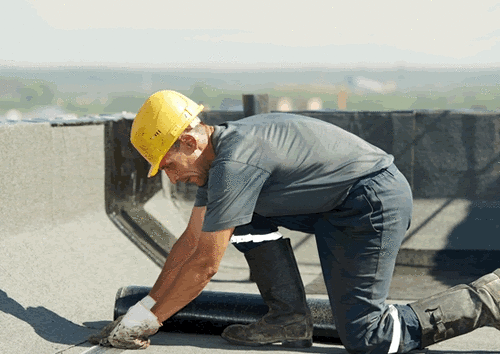 Roofer
Reference Code:

ST0270

Level:

2

Version:

1

Duration:

24 months
Introduction
This occupation involves installing a range of roofing materials and products, at height.It includes interpreting drawings, measuring and calculating the required amount of materials.Roofing work can involve anything from repairing a single tile or slate on a domestic property, to re-roofing public buildings such as schools, working on new build housing projects, or installing the roof on large commercial buildings.
Occupational role
This is a core and options apprenticeship, with three options:
Option 1: Roof Slater and Tiler - works on a building site, or in domestic or commercial premises, installing slate and tile roof coverings and related products to both new and existing buildings.
Option 2: Waterproof Membranes Installer - works on a building site, or in domestic or commercial premises, installing waterproofing systems and related products, to both new and existing buildings.Waterproofing roofers apply protective membranes to flat roof structures to ensure they are watertight.
Option 3: Roof Sheeter and Cladder - works on commercial premises, installing metal sheet roof coverings and related products, to both new and existing buildings.Roof sheeting and cladding operatives make buildings waterproof by covering the roof with sheeting, operatives may also clad walls.
Funding
Maximum £11,000
Entry requirements
Employers will set their own entry requirements.
Content
The apprenticeship includes core and options knowledge, skills and behaviours required to undertake the work of a Roofer.
End Point Assessment
Overview of assessment
The end point assessment covers all of the skills, knowledge and behaviours in the Standard. It will take place using independent assessors appointed by QFI and the methods shown below:
Knowledge Test
The knowledge test will consist of 45 multiple-choice questions, of which 5 questions will be scenario based and will determine knowledge of critical health and safety requirements. Delivered on a computer-based platform, in the presence of an invigilator, the test is closed book. The knowledge test must be achieved first as it contains critical health and safety questions which must be passed before an apprentice is allowed to work independently on site.Apprentices will have 90 minutes to complete the test.
Observation with Questioning
Apprentices will be observed by an assessor completing work in their normal workplace. The observation will consist of specified core activities, relevant to all apprentices, and specific activities relating to the option pathway chosen by the apprentice. In advance of the observation, apprentices will be provided with information on the format of the observation, including timescales. During the observation,the assessor will ask the apprentice up to 6 questions to assess underpinning knowledge and clarification questions if required. The observation and questioning will take 10 hours over 2 days.
Interview -underpinned by portfolio
The interview is conducted by an assessor on a one-to-one basis and will consist of open, competence-based questions which focus on coverage of prior activity evidenced in the apprentice's portfolio of workplace evidence. Apprentices can refer to and illustrate their answers with evidence from their portfolio. Questions will cover specific themes relating to Core activities, relevant to all apprentices,and activities specific to the option pathway chosen by the apprentice and will last for 45 minutes.
Readiness for assessment
The employer will endorse progression to the end-point when satisfied that the apprentice is consistently working at or above the level set out in the standard, and the pre-requisite gateway requirements have been met with evidence to support these:
achieved minimum level 1 English and mathematics and taken the tests for level 2
completed a portfolio of workplace evidence–to underpin the interview.
Grading
This apprenticeship is graded by the independent assessor appointed by QFI and grades are either:fail, passor distinction.
Professional Recognition
N/A
Why choose QFI
QFI is listed on the Register of Apprenticeship Assessment Organisations to assess this apprenticeship Standard. We have access to specialist, occupationally competent independent assessors. We will work with you to ensure that the end-point assessment runs as smoothly as possible providing support for any staff involved in the process. Contact us now to discuss your requirements leadassessor@qfiepa.org